 CITAM Church Records Ksh2.5 Billions Income
Having recorded the following incomes: Ksh. 1.8 Billion in 2017, Ksh. 1.9Billion in 2018, Ksh. 2.2 Billion in 2019 and Ksh. 1.96 Billion in 2020, Christ is The Answer Ministry (CITAM) recorded an increase in the total income from Ksh1.96 billion in 2020 to Ksh2.53 billion in 2021 as of December 31.
According to the financial report from the pentecostal church, the increase resulted from the relaxed restrictions due to the pandemic by the government.
"Total income for the year 2021 increased by 29 per cent to Ksh2.53 billion up from Ksh1.96 billion.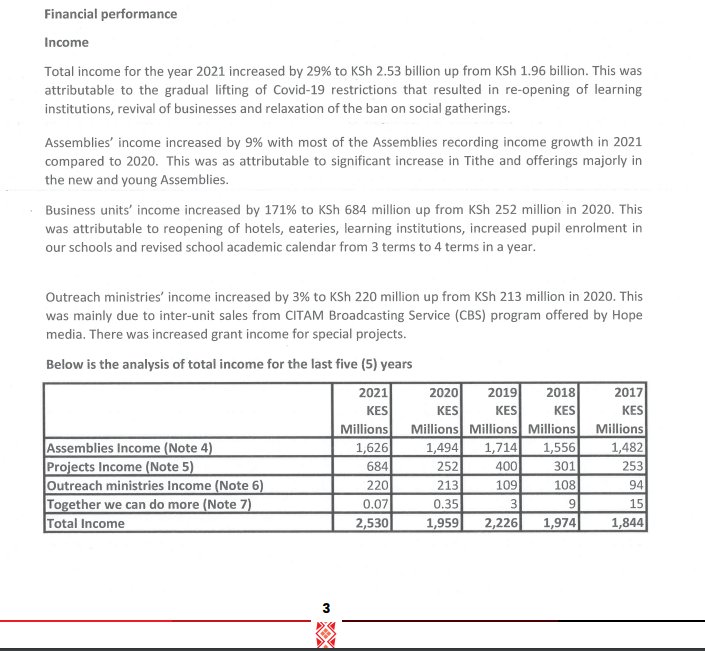 This was attributable to the gradual lifting of the pandemic restrictions that resulted in the re-opening of learning institutions, the revival of businesses, andrelaxation of the ban on gatherings," read part of the report.
From the report, it is notable that the recorded income is from all the churches located across the country with the main church being located in Valley Road Nairobi.
From the record, tithes and offerings contributed to Ksh1.57 billion from Ksh1.45 billion in 2020, being the largest percentage of the total income.
"Outreach ministries' income increased by three per cent to Ksh220 million up from Ksh213 million in 2020.
"This was mainly due to inter-unit sales from CITAM Broadcasting Service (CBS) program offered by Hope Media.
"There was increased grant income for special projects," the report read on.
Its branches that contributed the highest amount of money were Citam Valley Road, Citam Woodley, Citam head office, and Citam Thika Road at Ksh335.3 million, Ksh335.3 million, Ksh110.3 million, Ksh157.9 million and 96.9 million respectively.
Expenditures accounted for Ksh488.6 million of the total income raised.
The church has many other branches spread across the country and in the US and Romania. It also runs schools and other business ventures.
Based on the report, the church does not pay tax, similar to other religious bodies.
"No tax provisions are made in these financial statements. The ministry is exempt from income for a period of 5 years from November 1, 2019," the report stated.
The branches of CITAM, which are otherwise referred to as "Assemblies" include;
CITAM, CITAM Karen, CITAM Rongai, CITAM Embakasi, CITAM Kapsabet, CITAM Mombasa, CITAM Naivasha, CITAM Athi River, CITAM Ngong, CITAM Eldoret, CITAM Parklands, CITAM Thika Town, CITAM Valley Road, CITAM Buruburu, CITAM Kisumu, CITAM Nakuru, CITAM Kikuyu, CITAM Thika Road, CITAM Kiambu Road, CITAM Kangundo Road, CITAM Kitengela, CITAM Nyeri, CITAM Meru, CITAM Clay City, CITAM Kisii, CITAM Woodly